—K N Brookville, Indiana
"I'm thrilled with how clean my kitchen tile turned out, it looks new again."
—C H Dayton, Ohio
"Your carpet cleaning really spiced up my home… I now look forward my annual spring-cookout, knowing my floors all clean. Thanks for crossing it off my "to do" list, great job Steve!"
—M H Brookville, Indiana
"The carpet looks great… We were thinking about replacing it in the bedrooms –but not anymore! Thanks for doing such a great job."
--Kind words from Days of Discovery Learning Center - Beavercreek Ohio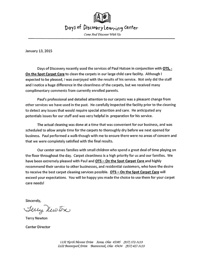 Please click the thumbnail to view the testimonial
--Kind words from Heartland of Eaton
Please click the thumbnail to view the testimonial
--Kind words from Canterbury House Apartments
Please click the thumbnail to view the testimonial